Back in May myself and my boyfriend enjoyed a weekend in the lovely old city of York. From it's magestic cathedral to it's quaint old shops, York is iconic as a great place to visit, especially if you happen to like history. I bought a guide book weeks before we went, and managed to find plenty to keep us entertained (all photos used in this post are mine).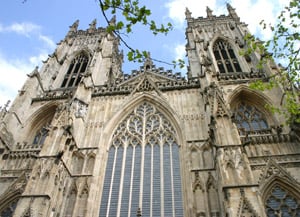 The first place we visited was York Cathedral. We arrived quite late on Saturday morning to find a queue out the door, but luckily it moved quickly. York Cathedral charges for entrance (a controversy when it was first introduced) but if you hold on to the ticket you will be able to visit again any time in a year, which is a good deal if you live nearby. The Cathedral itself is as lovely as you'd think, with some gorgeous stained glass and a side-chapel with a beautifully tiled floor. The far end is currently screened off as it's being renovated, which includes cleaning the large stained glass window. There is a really excellent series of touch-screen displays around this end so you don't feel that you're actually missing anything. The screens help keep children amused while the information on them helps adults learn about some of the techniques of both the masons and the glass workers.
T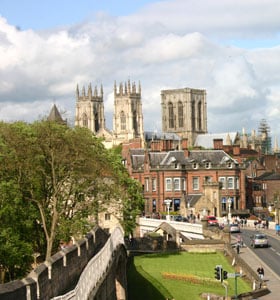 here was also a large black bubble in which was housed some of the glass that had already been cleaned, giving you a chance to see the images in far more detail than you would normally. It's a really excellent way to handle a renovation and I hope more places follow suit in the future.
On the Sunday we visited both Castle Museum and the Jorvik Centre which were also very good. The Castle Museum had a Victorian high street, completed with costumed "shop staff" who talked to people walking around, and a history of the old prison which included using a projector to beam a series of "characters" (based on prison records) onto the walls in the cells. The Jorvik Centre was also very good with some interesting displays, including another projector showing the injuries on one of the Viking skeletons found during excavations and depicting how she would have looked when alive. The level of technology seen in both museums served as an fantastic example of the direction such places are moving in, and I genuinely hope some of the London museums catch on to the improvements. Myself and my boyfriend don't have children so I can't ask their opinion, but there were plenty of them at both museums and judging by the repeated cries of "Mum/Dad look at this!" I think it's fair to say that they do a good job of keeping anyone under the age of 14 entertained.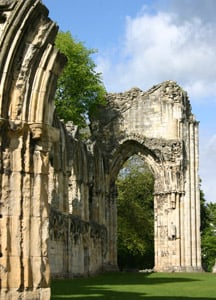 If money is a bit tight then there are a few free things to do in York as well. The York Museum Gardens (York Museum is a separate entity to the Castle Museum but they do offer a "joint entry" deal on ticket prices) are free to get in to and lovely to have a wander around on a nice day. They feature the ruins of the old Abbey, and the old "Hospitarium" which seems to be used for various events including weddings and craft fairs. There are also plenty of second hand bookshops (very useful to dive into when it starts raining) and antique shops that you can browse around. There is also the old Georgian Assembly rooms, which are now an "ASK" Italian restaurant but you can still poke your head round the door for a quick look (alternatively stop off there for lunch or dinner).
On Sunday afternoon we decided to make our way back to the hotel via the National Railway Museum. After the level of interactivity with the other two museums this was, sadly, a bit of a let down. You can wander around and peer in to old carriages, walk up next to trains and see how big the wheels are compared to you, and again there were certainly a lot of happy children around so it was clearly popular. But for something that called itself a Railway Museum it didn't seem to tell me much about the railways and how they revolutionised transport in this country (it's quite possible that I missed it though as I was quite tired from all the walking at this point).
However the trains were clearly very well cared for and the place was spotlessly tidy, and it was nice to be able to get so close to the old steam engines. If you need somewhere indoors to exhaust small children then this place should be a good distraction. Along with big trains there's also a model Hornby set with a train looping around it, and an outdoor play area at the back. I certainly wouldn't call the museum a waste of time, because it was still interesting to see the trains. At one point I had to get my boyfriend to take a photo of one because it was taller than me! Just don't expect to come out of it having learned much.
York is an absolutely beautiful city, if you ever have the chance to visit I would seriously recommend that you do so. Before you go make sure you get a small guidebook that has a map in it, it will be in invaluable once you get there due to the small inter-connected streets.