What Were Proxy Weddings?
Posted on
If you're not familiar with certain aspects of history, and you're working through a book on medieval history, dozens of unfamiliar terms and situations can assail you. Salic law, primogeniture, proxy weddings.
Proxy weddings? What on earth is that!?
What was a proxy wedding?
A proxy wedding will generally only refer to a marriage that is being held between two upper-class people in different countries or territories. Most of the time it will involve a Prince and a Princess, but one or both parties could be a duke, duchess or another highborn person, since these were the people who contracted marriages across whole countries. Such a marriage would often be designed to cement alliances or provide a balance against regional political problems. Quite often the first step would involve officially arranging a betrothal, this could involve children but also infants and newborns, at least one French Royal marriage was arranged when the bride was a mere three months old.
Once the bride reached a suitable age - twelve was the legal minimum for marriage but was no guarantee that anything would take place before they were fourteen or fifteen - a proxy wedding would be held. This ceremony was identical to the proper marriage ceremony, but with a stand-in or "proxy" for the groom, sometimes a close family relative or another highborn nobleman from his country. This marriage was completely legally binding, but only between the bride and the real groom, the proxy had no claim over the bride. The marriage would be celebrated by the bride's family with the usual banquets and festivities, and it was often soon after this that the bride would be packed up and sent to her new husband and home in the company of those who had been sent over to take part in the proxy wedding.
Upon arrival at her new country a second marriage ceremony would often be performed with her real groom, complete with even more celebrations. There was no real need for a second ceremony as the first was technically legally binding, but it did give an opportunity for a party and gave the political elite a chance to show off to their people.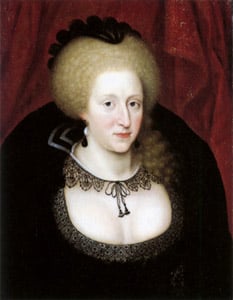 Anne of Denmark had a proxy wedding to James VI of Scotland (image from WikiCommons)
Why was it needed?
Proxy weddings served both a personal and public service. The bride and groom would be strangers, they may have exchanged some letters as they grew up if they had been betrothed as children, but they wouldn't see each other until the day before their wedding, or a few days earlier if they were lucky. If the bride got to her new home and the groom or his family took an instant dislike to her then the legally-binding proxy wedding prevented them from sending her home in disgrace. They could annul the wedding, but that was a lengthy process that involved appealing to the Pope, and in the meantime they would have to deal with vociferous complaints from the bride's family and demands to cover the costs of sending her home. Likewise it protected the groom, should the bride find that she didn't want to marry then there was no choice, short of possibly entering a convent (and even then the groom's family could appeal to the Pope, who could nullify any Holy Orders she had made since she was, technically, married). By marrying by proxy neither party could flee the altar.
On a public level it provided the bride with protection. Travelling in the medieval period was a dangerous business. While it was unlikely that a common thief would attempt to rob a Princess escorted by a dozen knights, her ladies and a retinue of servants, a hostile nation with an army was a very real threat as were pirates in the Mediterranean and the English Channel. Should the bride end up captured, or forced by bad weather to take shelter in hostile territory, then it was in the best interests of her groom's family to help her family retrieve her since he couldn't marry someone else.
Very often there is some confusion between a betrothal and a proxy wedding. Generally a betrothal would be considered to be the first step in the process, it was a promise that the couple would marry in the future. Betrothals were also legally binding, but it was fairly easy for them to be revoked in the future should circumstances change. In a proxy wedding the couple were married, just at a distance.
It should also be kept in mind that not all upper-class medieval weddings included a proxy marriage, for some a betrothal was enough. Marriages could also be arranged when the bride was past the canon-age for consummation, while it was possible for some to be betrothed in the cradle others were teenagers before a suitable groom came along.
Proxy weddings in history include James VI of Scotland and Anne of Denmark and Arthur Prince of Wales and Catherine of Aragon.