On This Day: Death of Joan of England, Queen of Scotland
Posted on
On this day in 1238, Queen Joan of Scotland died in Havering-atte-Bower. Her relatively short life had been frequently disrupted by the vagaries of English medieval politics, she had been passed from pillar to post as nothing more than a bargaining chip, and at the end of her life her marriage had been in ruins. She was yet another princess whose life was not what she may have hoped for.
Childhood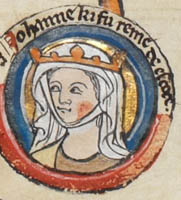 Joan was born on 22nd July 1210, the third child and first daughter of King John and his wife Isabella of Angouleme. Like the rest of her siblings her early life was influenced by King John's on-going war with the English Barons, as the court moved around the country trying to find alliances and support for John. Her life only really settled when, at the age of four, she was betrothed to Hugh X of Lusignan. As part of the betrothal agreement she was sent to Lusignan to be raised in her future husband's court. The betrothal was a peace offering on John's part, Hugh's father had originally been betrothed to Joan's mother Isabella of Angouleme. John had effectively betrayed the elder Hugh by tricking him in to leaving Lusignan and then marrying Isabella himself, leading to a series of battles and recriminations between both sides.
Hugh the younger was anywhere between 15 and 27 years older than his future wife, but marriage to a Princess was not a deal that could be given up lightly, especially as Joan could instead have been used as a diplomatic deal between England and France. By keeping Joan at the Lusignan court Hugh and his family could at least be certain that John would keep his side of any future bargain, they effectively had his daughter as a hostage should things turn sour. How Joan was treated at the court, as unwanted future bride or honourable guest, isn't known. But in 1216 things changed again when King John died and her brother Henry became King Henry III.
Up to this point Joan and Henry's mother Isabella had simply gone along with what her husband wanted. She had been 12 years old when she had married him, he hadn't been a brilliant husband to her, and it appears that she had no real love for England or the English. As soon as Henry was crowned and settled she decided to return to the continent, where she had inherited the county of Angouleme. Once she was home she soon became reacquainted with local power struggles and alliances, and in 1220 she usurped Joan's position by marrying Hugh X herself. With no father or brother to arrange her marriage for her, this was clearly a choice made by Isabella alone. It suddenly made Joan's position deeply awkward, with no groom waiting in the wings there was no point in her remaining in Lusignan. But Hugh and Isabella exploited the poor girl's position for everything it was worth.
Back in England Henry and his advisors were shocked by the turn of events. The union of the counties of Angouleme and Lusignan made a powerful bloc that could upset the delicate political balance on the continent. Hugh and Isabella knew this, and simultaneously refused to place Joan in her brother's custody and threatened to deal with the King of France if their demands weren't met. Isabella wanted the dower that she was due to receive as the widow of a King of England, and Hugh wanted the lands and money that had been promised to him as part of the agreement for marrying Joan.
The English court had no choice but to agree, they had already been arranging a new treaty with Scotland that was going to be cemented with a new marriage for Joan, this time to King Alexander II. Her sister Isabella was waiting a potential second best, but once again the age difference between bride and groom meant that an older bride was preferred, if only to reduce the amount of time until an heir could be produced. Henry agreed to his mother and Hugh's demands, and Joan was packed off back to England to face a new marriage.
Queen of Scotland
Ten year old Joan married the twenty three year old King of Scotland on 21 June 1221 at York. Henry paid for several days of celebrations, attended by nobles from both the English and Scottish courts, and Alexander then escorted his new bride back to his kingdom.
Joan maintained close contact with her brother for the rest of her life. Although Alexander had granted Joan a "dower" of various lands in Scotland, the money from which was supposed to support her and her household, it does not appear that she was actually given any control over this money. Although she was only a child when she married Alexander, she appears to have been continuously denied her rights once she became an adult. This was alleviated somewhat by Henry, who occasionally granted her lands in England, as well as rights to build property and claim other sources of income that helped her gain a little independence.
The real problems in the marriage seem to have stemmed from their childlessness. Like all Kings, Alexander was desperate to have a son and heir who would inherit his throne on his death. Even taking in to account the fact that Joan was only ten when they married, a decade later the couple still had an empty nursery. Although Joan had frequently proved her worth on the diplomatic front, frequently exchanging letters with her brother that also included things her husband had told her which helped smooth relations between both sides, to a medieval King her only value came from the sons she would give him.
In 1237 Alexander and Joan travelled south to York for a meeting between Alexander and Henry. Alexander had been demanding that Henry grant him the county of Northumbria, and a face-to-face meeting was considered to be the best way to resolve the argument. Once things came to a successful conclusion - Alexander dropped his claim in favour of other grants and acknowledgements from Henry - Joan left her husband and travelled down to Canterbury with her sister-in-law Eleanor of Provence. By this time Canterbury was a centre of pilgrimage, and both Queens may have been praying for help getting the sons that both their husbands wanted.
Joan then spent Christmas with her English family, with no apparent indication that she would return to Scotland any time soon. She was still in England when she fell ill, and she died on 4th March 1238, with her brothers King Henry and Richard Duke of Cornwall at her side. She was buried in Tarrant Crawford Abbey in Dorset, where Henry paid for masses to be sung and for a memorial set up over her tomb. Alexander married Marie de Coucy and by her had a son, the future King Alexander III.