August is drawing to a close, bringing summer to a slow end. Actually it hasn't been particularly warm (which is a bit of a relief for me) so it almost feels like autumn at the moment anyway, but a few weather people I know have suggested that September could be warmer so I won't get too carried away for the time being.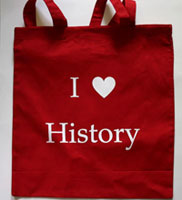 August was also a very exciting month for me as I launched a new product line, tote bags! There's currently bright red "I Love History" ones, with plans for more colours and designs in the pipework. I've been carrying one around for myself for a few weeks now and I'm completely in love with it. I deliberately went with a nice bright colour as I get a bit bored with the plain ones you normally find in shops, and I've already used it to carry heavy stuff around and it survived.
It was doubly exciting as I released my second ebook, 30 Women in History Volume 2! This is another 30 mini biographies on female figures in history, including Ingeborg of Denmark and Phillis Wheatley. You can get it from Amazon.com and Amazon.co.uk for a very reasonable price J
I also released two new badge designs, I Love Cicero, and Team Mary Queen of Scots. There are others due for release but it's a struggle to get good photos with the way the light is at the moment so they'll have to wait until we have a nice bright weekend. They're mostly following the Roman theme, with a Greek hero thrown in for good measure. On top of that Classics Geek and History Geek in purple were both restocked after selling out so they're now available once again.

So as you can see it has been a busy and exciting month. As Christmas starts to roll closer I'll be listing more new goodies so you should be able to find something you want to buy as a gift for someone.
Also remember that if you buy from Creative Historian and you Tweet a picture of your purchase to @CreateHistorian I'll DM you a code for 10% off your next purchase!
Have a lovely September everyone!